Motorbike Servicing from Mr Pig's Motorcyles
With today's high performance motorcycles, it is crucially important to make sure they are properly serviced, particularly if they've been hidden in the garage during the winter.
This is not only to ensure that the bike is running safely but also to make certain that the fluids and calibration of the motorbike are setup in a way that reduces wear and prolongs the life of your motorbike. Depending on your bike and usage, we have a range of servicing options to suit which are summarised below.
Call 0161 272 6088 now to arrange your service.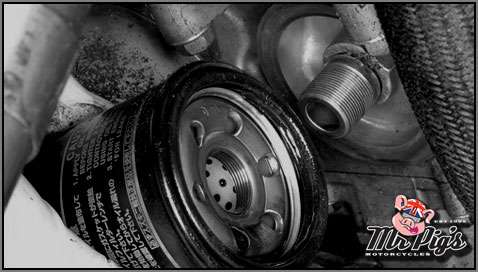 Wet Service - 2 hours
This is the industry "standard" motorcycle service offered by most bike shops.
Visual checks will be made to all the service parts on your motorcycle and oil and filter changed.
Any other problems will be brought to your attention. As you can see from the hours spent on your machine this is not an in-depth service and is regarded by Mr Pig's as a basic Safety Check Service.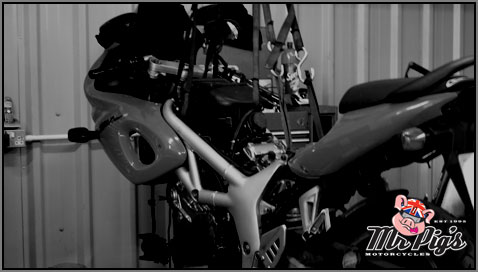 Interim Service - 6 hours
This is a more in depth service which will actually improves the performance of your machine.
As you would expect from this service, wheels and brakes are stripped out, cleaned and greased and fluids are changed. Engines are serviced to manufacturers' specifications and any handling issues are identified and brought to the owner's attention.
This service is done to the "Mr Pig's" standard which surpasses the industry standard by far.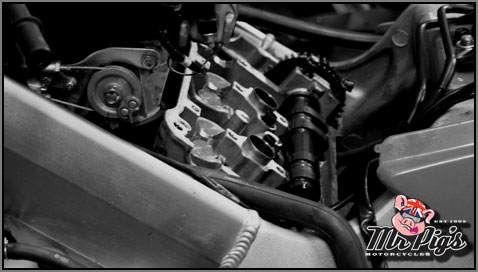 Full Service - 8 hours
This is an interim service with the addition of valve clearance adjustment.
As this job can be time consuming, many motorcycle shops miss out this vital service, to the cost of the motorcycle's long term condition and performance.
At Mr Pig's, we want you to be reassured that your bike is running at its most efficient level, giving you the best performance and reliability it can.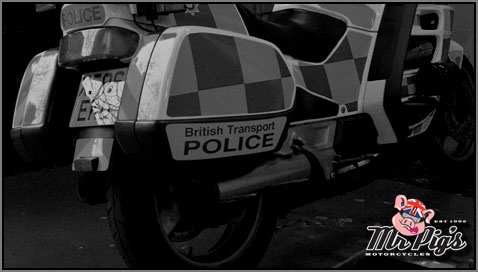 Performance Service - 10+ hours
This service is the ultimate service, designed to meet the rigorous demands of a high performance rider.
We perform a full service and add in suspension adjustments and tuning. Fork oil is changed and the swing arm and linkage are removed and serviced. We also make sure the steering head bearings are re-greased.
For riders who regularly test the limits of their machines, this service is ideal.