Performance parts for motorbikes from Mr Pig's Motorcycles, Manchester
There are many after-market parts that are an excellent addition to a standard bike, from an alarm to improve security to an after market exhaust to improve sound and performance. Have a look at the various option below and call us (0161 272 6088) or visit the workshop for more information and advice.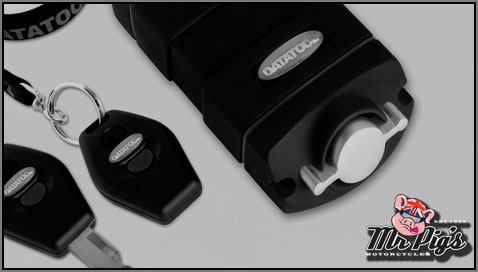 Datatool
Having all the performance parts and tuning in the world will not help you enjoy your bike more, if that bike then gets stolen.
We are proud to stock the full range of Datatool, one of the world's leading motorcycle security specialists, whether that be an insurance-approved alarm or a full immobiliser system.
We can also give you advice on chains, ground anchors and tips on how to keep your bike out of thieving hands.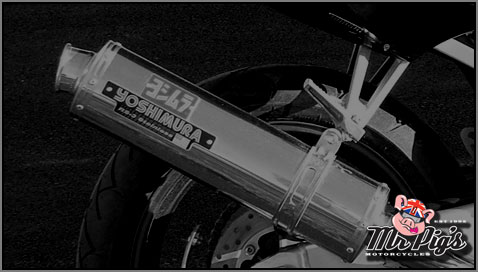 Exhaust
An aftermarket exhaust can help you reduce the weight and improve the performance of your motorcycle.
Mr Pig's stock a full range of exhaust options from aftermarket or replacement end-cans through to complete systems.
Whatever your motorcycle is, Mr Pig's can help you choose an exhaust that will work to help improve the performance of your bike.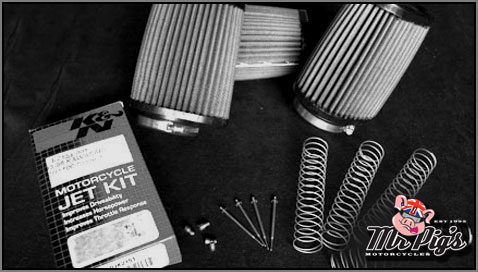 Dynojet / K&N Filters
One of the most common performance modifications, particularly combined with an aftermarket pipe, is a dynojet kit.
For carburettor bikes, Mr Pig's offers the full range of kits delivering improved throttle response and power increases of 5% to 15%.
A Dynojet kit is normally fitted along with a K&N Replacement Air Filter.
This popular aftermarket product is designed to achieve high, virtually unrestricted air flow while maintaining filtration levels critical to ensure long engine life. To improve the performance of fuel injected motorcycles, Mr Pig's can fit a Dynojet Power Commander. This is a fuel injection and ignition timing adjustment unit that plugs "inline" with the bikes' stock Electronic Control Unit (ECU).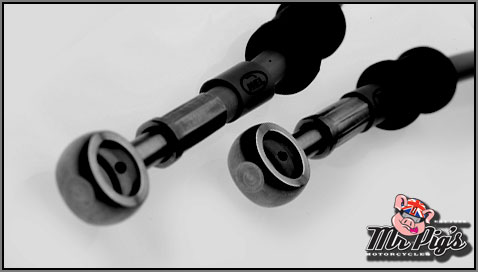 Brake Lines
With increased performance comes increased speed, so it's crucial your performance bike has the best stopping power at its disposal.
One of Mr Pig's interim, full or performance services will see your brakes adjusted and maintained. However, to get the best performance from your braking system, especially when your stock rubber brake lines are aging, it is worth upgrading to braided metal brake lines.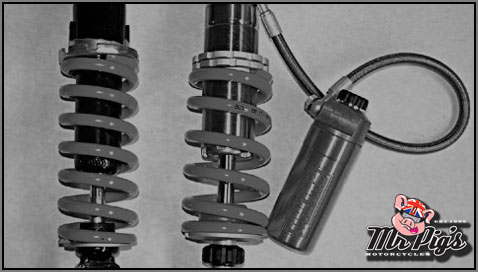 Suspension
As your motorcycle gets older, one of the first major components to age and reduce its performance is the suspension system.
Upgrading the fork coils, oil and seals combined with an aftermarket shock absorber can immeasurably improve the handling of an older motorcycle.
Many new shock absorbers and forks are fully adjustable, allowing you to setup the motorcycle specially for you. We are happy to go through your new setup with you.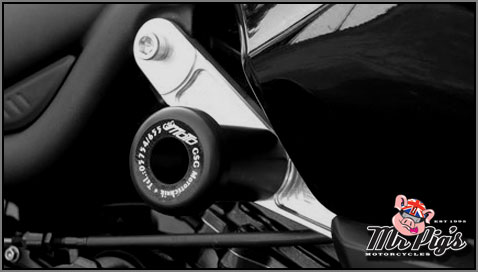 Bodywork & Crash Protection
If you have an accident, Mr Pig's can arrange for replacement or repaired bodywork done to the highest standard.
To limit future damage, particularly if you go on track days, we can fit R&G crash protection.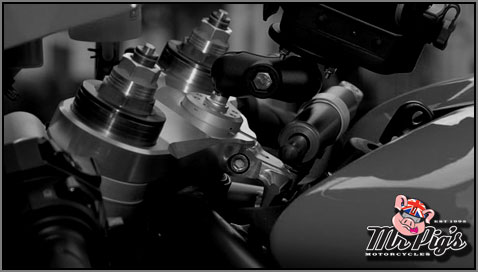 Steering Dampers
As the power and speed of modern sportsbikes increase on a yearly basis, the consequences of a hitting a bump or small road deformation at high speed are magnified.
Fitting a steering damper can help combat this and allow you to maintain smooth progress.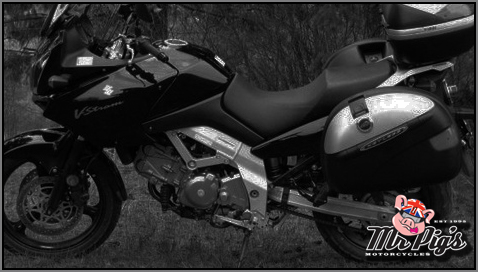 Givi Luggage
Fed up of rucksacks and bungee cords?
A hard luggage system can provide a quick and convenient way to carry more on your bike. Mr Pig's Motorcycles can provide the excellent Givi frames and hard luggage, either as a kit for you to assemble or you can drop your bike off for full fitting and adjustment.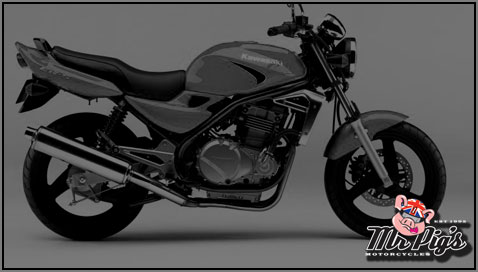 Other accessories & kits
Mr Pig's can provide many more extras for your bike including.
Other common additions include lowering kits and restrictor kits - if you have just passed on a 125cc and your license restricts you to 33bhp for 2 years.
Drop in with your bike one day and find out about Mr Pig's full range and high standards approach to motorcyle maintenance.